MIC - Microanalytical Centre
Jožef Stefan Institute,
Jamova 39,
SI-1000 Ljubljana,
Slovenia
T: +38615885451
Leader: Prof. Dr Primož Pelicon
Coworkers: Dr Matjaž Kavčič, Dr Marko Petric, Assoc. Prof. Dr Matjaž Žitnik, Doc. Dr Andrej Mihelič, Doc. Dr Klemen Bučar, Dr Esther Punzón Quijorna, Dr Jelena Vesić, Mitja Kelemen, Prof. Dr Matej Lipoglavšek, Doc. Dr Sabina Markelj, Mateja Hrast, Matic Pečovnik, Doc. Dr Paula Pongrac, Špela Krušič, Assoc. Prof. Dr Matjaž Vencelj, Dr Žiga Barba, Žiga Brenčič, Prof. Dr Žiga Šmit, Zdravko Rupnik, Dr Primož Vavpetič, Dr Iztok Čadež, Kristina Isaković, Mirko Ribič, Ava Rajh, Dr Boštjan Jenčič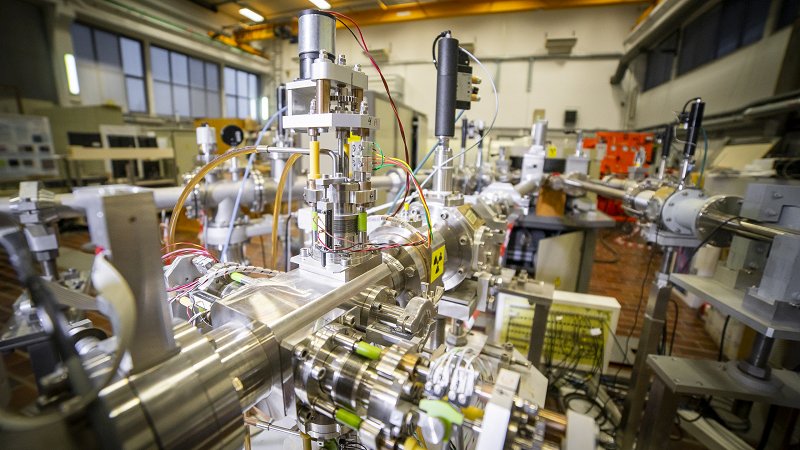 The tandem ion accelerator "Tandetron" is the heart of the Infrastructure Research Center "Microanalytical Center" (MIC), which operates within the Infrastructure Program of the Jožef Stefan Institute.
Tandetron is the only research accelerator in the country. Acceleration of ions takes place electrostatically in a direct electric field, which is provided by a rectifier with a voltage of up to 2 MV (two million volts). The accelerator is one of the most technologically advanced electrostatic accelerators, the high voltage is generated in a rectifier with semiconductor diodes, without mechanically moving parts. The rectifier is very stable - at an output voltage of 2 million volts, the voltage instability is only about 100 V.

Graphics above: Ground plan of the Jožef Stefan Institute's ion accelerator with three ion sources (duoplasmatron, dsputtering source and state-of-the-art ion source multicusp) and four beamlines.