ENRAS (ENsuring Radiation Safety)
Type of project: international
Duration: 2018 - 2020

Project leader: Branko Vodenik
Code: SLO-HR103
Coworkers: Boštjan Črnič, Doc. Dr Benjamin Zorko, Mag. Denis Glavič-Cindro, Klara Poiškruh, Prof. Dr Matej Lipoglavšek, Assist. Prof. Dr Miha Mihovilovič, Petra Prem, Sandi Gobec, Dr Toni Petrovič
External coworkers: Dr Tinkara Bučar, Matjaž Stepišnik, Msc, Thomas Breznik, Bsc Matjaž Koželj, Msc
Partners: Jožef Stefan Institute, Institute for Medical Research and Occupational Medicine (CRO), Fire Brigade Association of Slovenia, Croatian Fire Brigade Association, Administration of the Republic of Slovenia for Civil Protection and Disaster Relief, Nuclear Safety Administration of the Republic of Slovenia, Ministry of the Interior of the Republic of Croatia, Directorate of Civil Protection (CRO)
Laboratories: LMR - Laboratory for radioactivity measurements, ELME - Ecological Laboratory with a Mobile Unit , ISMIS - Radioactivity Measurements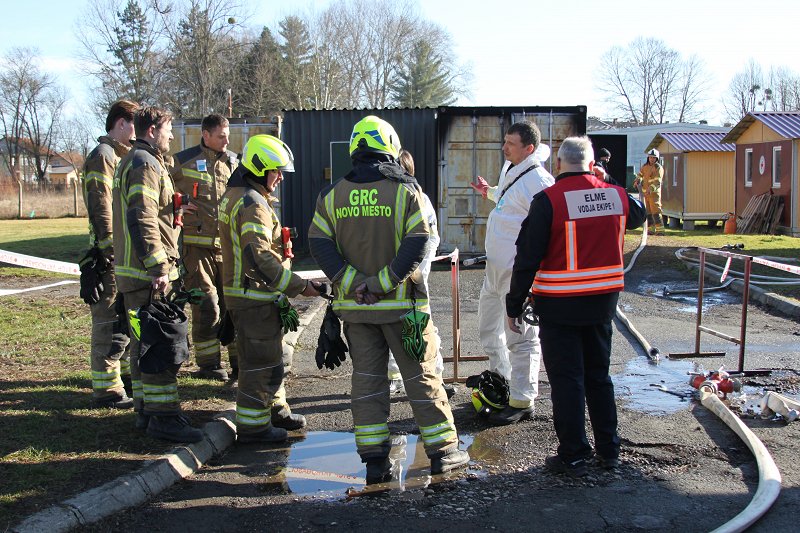 Fire-Fighting Units take the responsibility of First Responder Teams in all kinds of incidents in Slovenia and Croatia. However they have not been adequately qualified for safe interventions in case of radiological and nuclear accidents.

Therefore members of intervention units have to acquire knowledge and learn the skills to asses the radiological situation and to protect themselves and fellow citizens adequately during intervention in accidents involving the risk of ionizing radiation. Additionally due to the Nuclear Power Plant Krško which is shared by Slovenia and Croatia, not only capacity building with respect to safe intervention but also coordination of relief efforts put in by intervention teams from both sides of the border is of vital importance.
For this reason an INTERREG project titled ENRAS (ENsuring RAdiation Safety) has been developed in order to educate and train Fire-Fighting Units for safe interventions and to ensure coordinated actions in the cross-border region.

To reach this goal a new system of education and training has been developed and implemented. Based upon the developed system of education individual intervention units one by one have received a corresponding training consisting of theoretical background and practical aspects.

As an overall proof of success joint exercises have been organized attended by several intervention units from both sides of the border. They have been used to asses the efficiency of education and training by observing the competence of intervention workers in comprehensive firefighters` scenarios which include the risk of ionizing radiation.

In less than one year more than 700 members of almost 60 intervention units have been trained. Their feedback regarding knowledge obtained and skills gained has been collected via written exams and questionnaires. The response has been extremely good. All the participants have passed the exams and the majority of intervention workers have claimed to benefit a lot with respect to safety during interventions in case of radiological and nuclear accidents.
Additionally, a cross-border structure responsible for sustaining and further developing the competence of first responder teams as well as improving guidelines and protocols for safe interventions in the cross-border region after completion of the project is going to be established to ensure a long term impact of the project.
ENRAS has increased safety in the cross-border region of Slovenia and Croatia considerably by improving competences of Fire-Fighting Units for safe joint interventions in the event of nuclear and radiological emergencies.