Laboratory for fusion research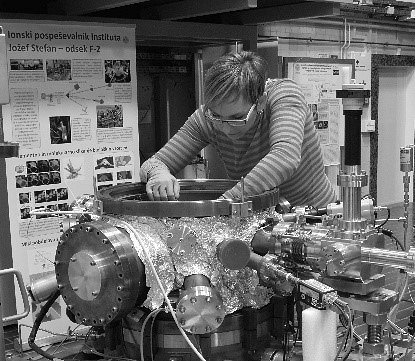 Fusion research in the department F2 of the Jožef Stefan Institute has started in 2003 with a project at EURATOM. The project subject was to contribute in the field of atomic processes in edge plasma of a tokamak. The main goal is to study processes with neutral hydrogen atoms and molecules interacting with materials relevant for fusion. From the very beginning the use and development of ion beam methods at Tandetron accelerator at Microanalitical center have been progressing hand in hand.
Particular impetus for the research was the organizational change of the European program to the strategic goal for successful construction and operation of the international ITER tokamak. The European research has been coordinated by the newly established EUROfusion Consortium and our work is strongly integrated within Work package "Preparation of Efficient Plasma-Facing Component (PFC) Operation for ITER and DEMO˝ (WP PFC).
The Laboratory for fusion research was founded in the year of 2019 when the Fusion technologies program group was established at IJS. Our group has been part of Slovenian Fusion Association from the very beginning. We have a very active collaboration with other laboratories working on fusion in particular with Forschungszentrum Jülich GmbH, Max-Planck-Institut fur Plasmphysik, Garching, Aix Marseille Universite, CEA, VTT.
The main research in the laboratory is related to plasma wall interaction. In our research we exploit ion beam methods that have been under development at the 2MV accelerator laboratory <link> where we have constructed a special beam line and chamber. With methods like NRA and ERDA depth distribution of hydrogen isotopes can be followed in-situ and in real time during specific experimental exposures of samples to hydrogen. In our laboratory we have also constructed and developed a unique spectrometer for detection of vibrationally excited hydrogen molecules. The detection method is based on dissociative electron attachment into hydrogen molecules. In the laboratory we have also constructed an ultra-high vacuum chamber where a mass spectrometer is used to study adsorption and desorption of gases to and from materials.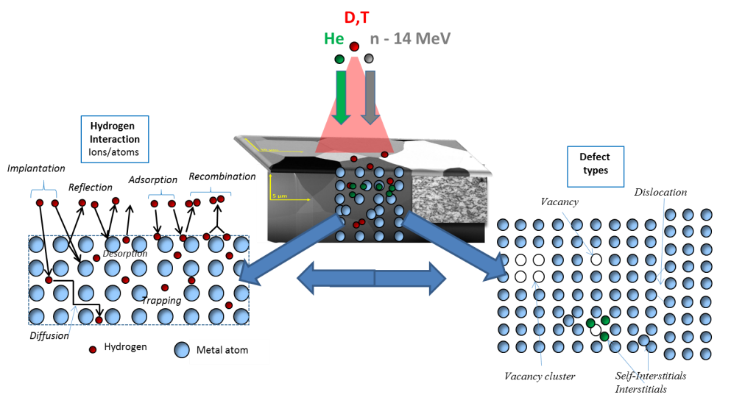 The main area of expertise is the study of hydrogen atom interaction with materials for fusion:
Hydrogen depth profiling in materials by ion beam methods, where our main field of expertise is to follow processes on surface and in the bulk in-situ and in real time.
Irradiation of samples by high energy ions with the purpose to create defects in crystal lattice.
Analysis of samples exposed to plasma from fusion devices by microbeam.
Rate equation modelling of hydrogen adsorption, desorption and recombination on the surface and diffusion and trapping in the bulk of material.
Spectroscopy of vibrationally excited hydrogen molecules - study of their production on surfaces and their interaction with materials.