Publication in MDPI Materials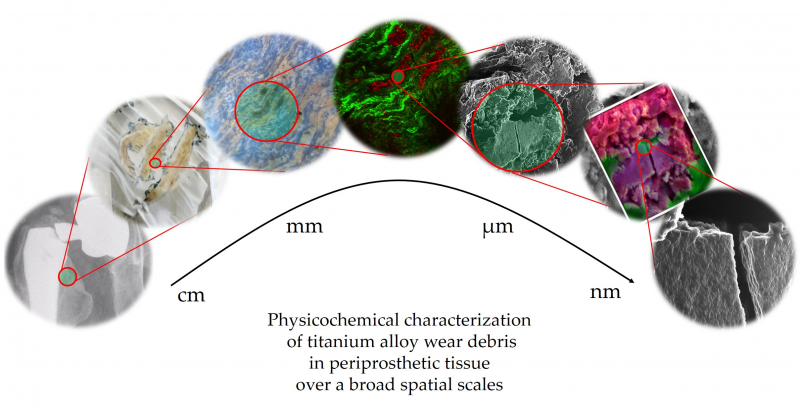 The metallic-associated adverse local tissue reactions (ALTR) and events accompanying worn-broken implant materials are still poorly understood on the subcellular and molecular level. We have implemented a label-free correlative microscopy approach to study the hip implant rejection and related chronic inflammation. Using a combination of correlative microscopy and analytical techniques covering wide spatial scales ranging from millimetres down to nanometres, the structural and functional properties of the wear debris were characterized, as well as their impact on the surrounding periprosthetic tissue, obtained at revision surgery from a fractured modular neck of a primary bi-modular stem total hip arthroplasty. Esther Punzón Quijorna, Primož Pelicon, Primož Vavpetič and Mitja Kelemen were working on this, together with colleagues from the Department of Condensed Matter Physics (F5) at JSI, physicians from UMC Maribor and with colleagues from Helmholtz Zentrum Dresden Rossendorf (HZDR) within their Helmholtz European Partnering project.
Link to the article
This research was funded, beside HZDR project, by the European Union's Horizon 2020 research and innovation programme under the Marie Skłodowska-Curie grant agreement No. 799182 (TissueMaps project). The work was additionally supported by the Slovenian research agency (ARRS).