LSC – Laboratory for Liquid Scintillation Spectrometry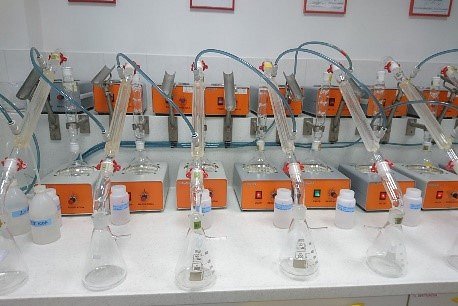 Radioactivity is (above all) a natural phenomenon that can be used as a tool in medicine, geology, industrial processes and wherever. It can be a clock, a tracer of natural and other processes, therapy, energy. Some of these wonderful possibilities are also addressed by the Laboratory of Liquid Scintillation Spectrometry (LSC Laboratory), established in 2005 within the Infrastructure Group ISMIS of Department of Low and Medium Energy Physics at the Jožef Stefan Institute.
The results of the LSC Laboratory are useful for the control of natural and artificial radioactivity in the environment, such as in drinking water, rivers and agricultural crops. Special attention is paid to samples from the surroundings of nuclear facilities. Using radioactivity measurements, we can point out the degree of vulnerability of groundwater and estimate its resident time in aquifer. For fuels, lubricants, coatings, resins, oils, chemicals, we can tell whether and to what extent they are obtained from bio-components or renewable sources. By measuring the content of radionuclides, physiological processes, transport of nutrients and other substances in the soil, in the air, in individual cells, in complex organisms can be followed.
The LSC Laboratory provides accredited analyzes of radionuclide content, especially alpha and beta emitters (H-3, C-14, gross alpha and beta activity). The most common users of our services are Slovenian and foreign authorities, industry, scientific research groups and of course curious individuals. The LSC Laboratory develops and introduces new analytical methods, encourages their use in various fields, interprets the results and places them in a broader framework, educates society, community of experts and students at all levels of education. In the metrology field, we cooperate in the preparation of reference materials and interlaboratory tests.
The backbone of the LSC Laboratory are three liquid-scintillation counters that boast a high degree of stability and extremely low measurement backgrounds. This allows us to accurately measure the content of radioactive substances even in samples where radionuclides only appear in traces. Liquid scintillation spectrometry is based on the detection of photons evoked by radioactive decays in fluorescent substances that added to previously chemically treated samples.